S&S Auto offers an additional service of auto insurance with Grupo Nacional Provincial SAB (GNP), HDI Seguros and Qualitas Compania de Seguros for Mexican-plated vehicles only.
Auto Insurance is Mandatory in Mexico:
There are three types to choose from:
1.  Amplia
Collision
Theft
Third-party liability
Medical for occupants of vehicle
Legal Assistance
Includes liability for the USA and Canada*
Road side assistance
2.  Limitada
Theft
Third-party liability
Medical for occupants of vehicle
Legal assistance
3.  Responsibilidad Civil (R.C.)
Third-party liability
Medical for occupants of vehicle
Legal assistance
Insurance policies usually maintain a 5% deductible on collision, and 10% deductible on theft, which can – in some cases – be reduced to 3% and 5%. Deciding on which policy terms are best suited to each vehicle owner is a personal choice. Taking into account Responsibilidad Civil (RC) is the minimum policy available, you might consider increasing the terms to include theft and/or collision. How to determine which is best: should be influenced by the amount invested on the vehicle, the age of the vehicle, and if the vehicle is considered high-risk for theft.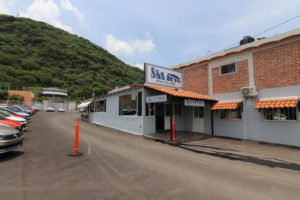 Vehicles over 15 years old can only have third-party liability policies unless an official appraisal (avaluo) is acquired. Also, many insurance companies will only offer third-party coverage for legalized (Mexican plated) vehicles. All insurance policies should include Proteccion Legal. This is very important for the reason that although very rare – incarceration can happen in the case of a serious accident. In this case the insurance company will provide legal assistance and bonding.
It is to your benefit to report any accident to the insurance company, whether or not you make a claim. Leaving the scene of an accident is illegal and can result in serious legal consequences, and denial of a claim. Never move your vehicle until told by authorities or insurance adjuster.
If you are asked to move the vehicle by official authorities before the adjuster arrives, take pictures. In case of an accident or theft, you must provide an up-to-date registration and a current driver's license. In some cases, you will be required to get a police report. In the case of theft, a police report is mandatory, plus the current registration and the original Factura will be surrendered to the insurance company. If you would like a quote,please give us a call or visit our office.